In the
Spanner
comics script I did for Script Frenzy in 2008, I opened issue 2 with a Dalek-like security robot summarily executing a one-shot character. Then in Chapter 4 R3, I gave Corporate patriarch Dr. Lars Thorwald, chairman of Biotron, a more advanced production version of a prototype robot that uses an iPod as its head and brain.
And now this: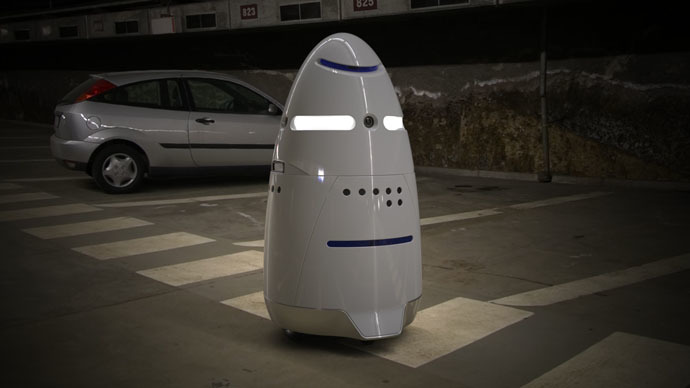 The article: <a href="http://rt.com/usa/207395-robocop-security-silicon-valley/">5-foot-tall 'Robocops' start patrolling Silicon Valley</a> (RT.com). The subject: a security robot now policing the streets of San Francisco — and it looks
exactly
like the one from the Script Frenzy 2008 version of
Spanner
#2.
Why does the future keep catching up with me?
One thing about speculative fiction is that an author must keep second-guessing the future. My second guesses involve "friendly fascism", the technology of oppression, the cyberpunk truism that the street makes its own uses for things, and the level of tolerance that masses of ordinary people have for tyranny before their desire to live forces them to revolt (and the eagerness of elites to push that tolerance to its limits). Not superheroes, not psychics, not vampires and werewolves and shapeshifters; those belong to my critique of superhero mythology.
My problem is that I've been delaying
Spanner
's publication for so long that history has started overtaking my speculation. This problem has become so bad that I actually moved the years in which the series takes place from 2014-16 to 2018-20, simply because 2014 had already arrived and thus was no longer speculative. I picked the 2014 date all the way back in 1994, when I aged Shira down from her original 25 down to the Standard Anime Protagonist Age of 15; now I've aged her back up to 19 while keeping her birthdate of September 9, 1999.
Some events that occurred in the middle of writing and editing
Spanner
:
the 9/11 terrorist attacks and the ensuing invasions of Afghanistan and Iraq in 2001-3, coupled with a "USA PATRIOT" Act that almost convinced me that the "future fascism" I'd been setting the series in since 1992 (if not 1989) had already arrived;
the death of Steve Jobs in 2011;
the "Arab Spring" revolutions and Occupy Wall Street movement, both also in 2011, and both of which failed; and
the anti-police-state protests going on as I write this.
On the technology front, progress in aircar, jetpack, hoverboard, and sexbot technology is such that all of them will be in commercial release by 2018. Despite the failure of Google Glass, augmented reality will become common and normal just as tablet computers, which were a pie-in-the-sky technology, have become today. Another new technology I borrowed toward the end of the plotting phase (late 2000s) was the smartphone; later, in the leadup to the NSA surveillance scandal, I gave my hackers and rebels generic smartphones without tracking devices; and now the
PiPhone
(made from one of those tiny
Raspberry Pi
computers) has convinced me that, under a Chinese-style phone company/ISP monopoly with massive supercomputers dedicated just to censorship, hackers must kludge up their own smartphones and use secure
meshnets
for calling without the monopoly's interference.
Even the particular manifestations of the reactionary politics I would later call "the Conservative Revolution" have largely come to pass. Apparently I didn't get dystopian enough to expect the British "panopticon" surveillance policy, the growth of Soviet-style "vote for the ruling-party candidate Or Else" elections in the US, or the return of the Gilded Age capitalist predators who tried in the 1890s to destroy American freedom and are trying yet again. I did throw in a tyrannical megacomputer, but that's almost a cliché of 1960s and '70s science fiction that — surprise! — turns out to have become a reality as well, along with
The Terminator
's Skynet. It also took me years to realize that the "Conservative Revolution" is really just the ultimate manifestation of the American Civil War that, despite the near universal assumption that it lasted only four years in the 1860s, really started in the seventeenth century (or even the thirteenth, the century of mother country England's Magna Carta) and has never ended.
Yeah, I know, science fiction has a reputation for making predictions that turn out to be not just wrong but impossible. I throw in some impossible things myself, usually to either critique the superhero mythology or pay homage to classic SF. But too much of the SFnal speculation I've put into
Spanner
since 1992 has already come to pass, and I'm certain a lot more of it will by the time the story begins in 2018.
Now to edit that second-issue opening back into the third chapter of the new Book 2...